THE WINNERS ARE:
Raffle Pick by Rafflecopter
Jennifer Gonzales Roxas
Gayle Sy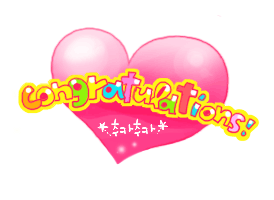 Please email me your mailing address
within 48 hours so I can send your prizes ASAP.
Thank you everyone for joining!
Always remember that I have a monthly giveaway so if you did not get lucky this month, we still have 12 months in a year and I will try my best to make it better each month. Please do keep supporting my blog. ♥ Love ♥
SPONSORED GIVEAWAY FOR ANYWHERE IN THE WORLD
♥
ABOUT AHAI SHOPPING:
AHAISHOPPING.COM - A Korean & Street Style Women's Fashion Online Store
AhaIshopping, A Korean & Street Style Women's Fashion Clothing Online Store offering women's apparel, dresses, bags, shoes, jewellery, accessories, beauty products, etc.
Special Offers Only $9.99 & Free shipping Everyday.
AhaIshopping was founded in late 2011, and has already grown to one of the best women's fashion clothing online stores. They keep updating products at a high rate every day. Now they update more than 300 new products each week. Those products mentioned definitely belong to the latest fashion trend.


AhaIshopping's mission is to make you close to the planet's most cutting-edge fashion, no matter where you are or what class or age group you are in. Pursuing fashion is the right of every woman.
(CLICK PHOTO TO GO TO THE LINK)
DRESSES
TOPS
NOW Here is the chance to WIN YOUR FAVORITE/WISHLIST CLOTHES

♥
Giveaway Prizes:
1. Free clothes total cost $30 as prizes if there are over 100 valid competitors.
Two winners choosen at random after 3 weeks, each one could get $30 prizes listed above.
2. $15 cash bonus to winners if there are less than 100 valid competitors in the giveaway campaign within 3 weeks
Two winners choosen at random after 3 weeks, each one could get $15 cash bonus, and you can use it as cash on
http://www.ahaishopping.com
when you order over $100.
Please Invite all your friends and family to JOIN so we may have over 100 competitors.
MECHANICS:
This giveaway is an INTERNATIONAL GIVEAWAY OPEN WORLDWIDE.
Contest starts today September 4, 2013 12:00am and ends in 3 weeks September 25, 2013 12:00am
MANDATORY (REQUIRED)
5. Share giveaway on your Facebook status.
OPTIONAL
(These are optional. But of course, more entries will give you more chances of winning!)
Thank you for joining!
Good Luck!
God Bless!
ENJOY MY POST?
LIKE MY PAGE ON FACEBOOK for more updates and photos.
SUBSCRIBE TO rochellerivera.com by EMAIL